Having traveled far and wide across Australia, few cities capture my imagination and heart quite like the way Adelaide does.
While it's hailed as the city of festivals and churches, and even more famous for the plethora of surrounding world-class wineries, there's another side to Adelaide that doesn't get quite the same hype (if at all).
Adelaide has big aspirations to become the world's first carbon-neutral city. As far as Australian capital cities are concerned, it's helping to set the pace in implementing climate change policies.
Image via Adobe Stock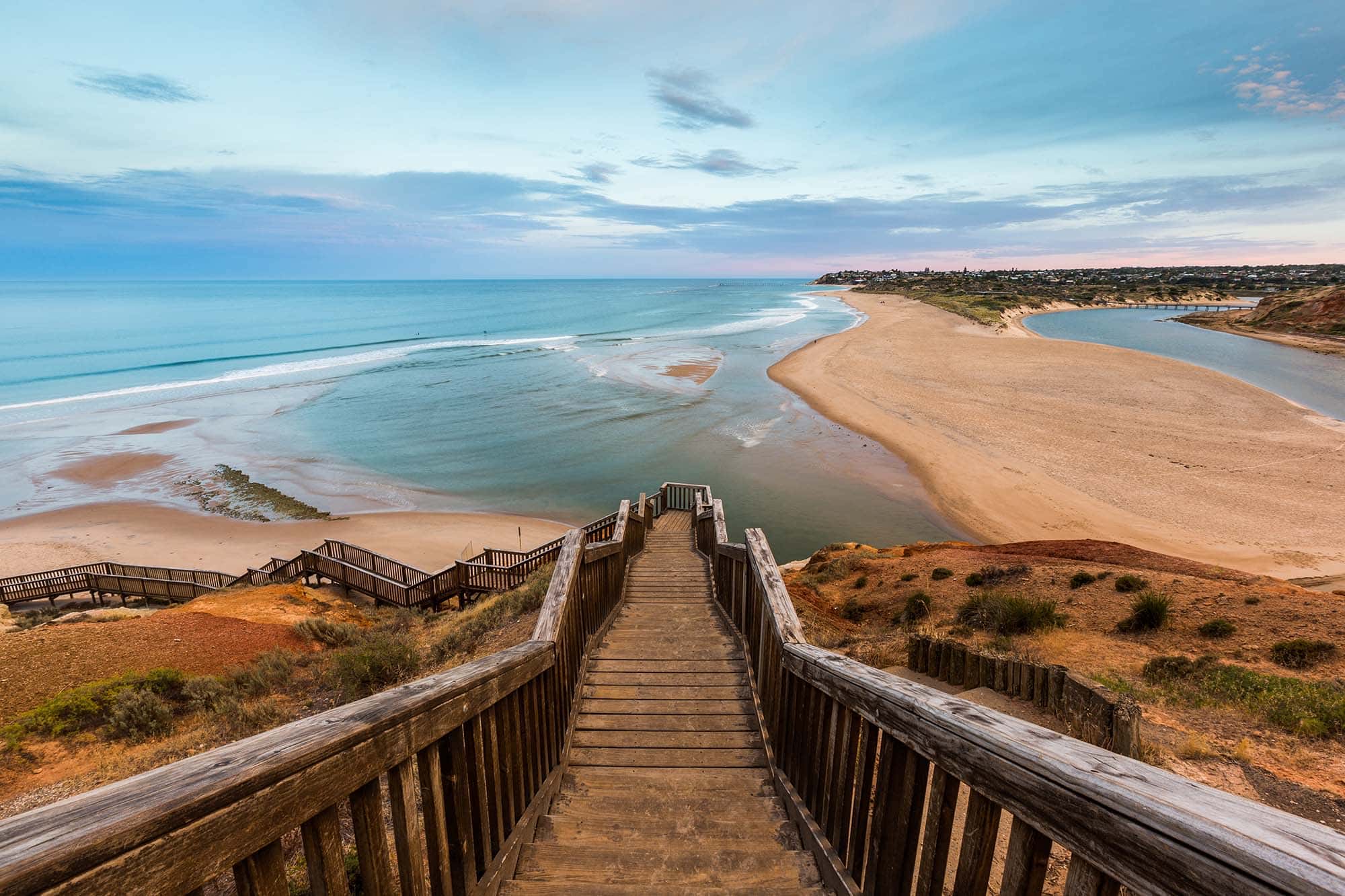 During 2007-2013, they undertook some hardcore carbon emission-cutting initiatives, reducing their output by 20%. Thanks to some forward-thinking renewable energy schemes and a more ecological approach to city planning and governance, it's become one of Australia's greenest cities.
We aren't just talking green in terms of climate change policy either.
The local and state governments have gone to great efforts in preserving and encouraging natural biodiversity by reclaiming and enhancing green spaces in and around the city. The city is surrounded by dozens of beautiful parks. For this reason, there are endless opportunities to get outside and soak up the great outdoors.
While I may be slightly biased (I'm South Australian born), I do believe Adelaide has everything someone like me could want in a city, without the chaos of big city living. Sure, you'll still get your dose of traffic, noise and rising property prices, but you'll also have slightly more bandwidth for taking things a little slower and enjoying a more laid back 'country' lifestyle without sacrificing all of modern life's little luxuries.
At your doorstep, you have access to amazing farm fresh food, kilometers of unhindered beaches, bushwalking and bike tracks, parks (and more parks), and of course, a little mixed-bag of cultural delights through the city's historical and arts scene.
Can I get an Amen? That to me is an extremely attractive trade-off.
During a recent visit back to Adelaide, I made a point to get out and about more, taking advantage of these nature-inspired experiences. These are worth making an effort to soak up during your next (or first) Adelaide visit.
Mt Lofty
Topping my list is the famous Mt Lofty. Rising 727m above the city, this mountain will provide you with unparalleled views of the gorgeous city of Adelaide.
On this particular bright sunny day, I opted to ascend via the 7.8km return Waterfall Gully track. It's quite steep in some areas, but the scenery along the way is so worth it, and of course, nothing beats that feeling when you make it to the top.
There's the option to drive to the cafe perched on top if you're not able (or less exercise-inclined).
Port Adelaide
Once upon a time, Port Adelaide was central to the colonisation of South Australia, and thankfully, many of these original historic buildings have been beautifully preserved.
In more recent years, a good amount of economic development, high-end property investment, restaurant, and cafe openings, pop up shops, and a rolling calendar of street festivals has helped Port Adelaide transform from a run-down industrial quarter to more of a yuppy haven.
It's become my personal favourite suburb in Adelaide.
You can easily spend a day wandering the quaint streets, ducking in and out of op shops and delightful little cafes serving up some darn good cups of coffee, and admiring the incredible art murals giving the historic buildings a facelift.
But the real gem of Port Adelaide is strolling up and down the waterfront and taking the opportunity to book yourself on a dolphin watching experience along the river. This sanctuary was established to make the port a safer place for the family of bottlenose dolphins to live that have made themselves at home there, and considerable effort has gone into protecting their natural habitat.
The Beaches
Few would associate Adelaide with miles of golden sandy beaches, but that's what it has to offer. Enjoy a sunrise or sunset walk to soak up the best views or indulge in some fine waterfront dining. Here are some of the best beaches (in my opinion) to scope out:
Glenelg – It's a popular swimming, and dining destination for a reason (hello clear waters!) with a plethora of cafes, restaurants, and shops are also on offer.
Henley – Less crowded but plenty of fine-dining seafood options overlooking the water.
Semaphore – Take the kids along to the beachside playground with views that'll make your heart sing!
Brighton – A more chilled out vibe for swimming and low key cafes.
Botanical Gardens and Parks
Adelaide's council has gone to great lengths in nurturing the Botanical Gardens. You can easily spend a couple of hours wandering around breathing in the fresh smells of nature that so many of us lose a sense of in the midst of our fumigated concrete jungles.
A special mention must go to the Waterlily Pavilion which will provide a real treat for fellow lovers of nature's wonderful novelties.
From the Botanic Gardens, you can walk west along the River Torrens just off North Terrace where you'll find yourself weaving around many well-manicured gardens. You may prefer to jump on a paddle boat for an alternative perspective of the city, or zip your way down to the other end of the city via one of the old trams or free solar electric bus. Alternatively, you can grab one of the hundreds of free bicycles dotted around the city to ride around on for the afternoon.
The best part about Adelaide is that no matter which direction you head, you'll stumble upon a parkland at some point. It's hard to get lost. Surrounding the city itself are blocks and blocks of green spaces. I think this is so great. You'll always have somewhere you can ride your bike, kick a football or lay out a picnic blanket and bask in the sun.
While not technically 'outdoors,' you will most certainly get a taste for the best of nature that South Australia has to offer through the fresh produce available at the Adelaide Central Markets.
Established back in 1869, it's the food hub for the region and is open from Tuesday to Saturday. Of all the capital cities, this has to be one of my favourite places to shop for fresh produce. You may be surprised (like I was) by just how affordable and high quality the fresh food is here. Dotted with little ready-to-eat food stalls, and plenty of variety on the produce front, you can stay for lunch and leave with all the ingredients you need for dinner.
There are few cooks in Australia as iconic as Maggie Beer. Nestled in the humble town of Nurioopta in the Barossa Valley, her famous pheasant farm is a hot spot for sampling all her mouthwatering preserves and pates.
You can stay for a delicious home-style meal overlooking the picturesque lake. Be sure to take a souvenir or two away with you.
The truth about Adelaide is that it's so much more than 'just a big little country town.' It has a historical charm that's incomparable to the likes of Australia's other big cities, and a more down to earth feeling that will reconnect you with the wonders of nature, without feeling like you have to sacrifice everything we've come to love about modern city life.
That to me is more of a win-win that will get people excited about a more environmentally-conscious future.