9 Plus Size and Inclusive Ethical Fashion Brands You Need to Know
Kira Simpson
Although the industry has come a long way in recent years, there's still a serious lack of diversity in fashion.
Many people struggle to find clothing that flatters their body type and makes them feel good. If you also want clothing that's ethically and sustainably made, finding plus-size fashion can be even trickier.
I know that diversity and inclusivity in fashion extends far beyond sizing. The fashion industry needs a major shakeup when it comes to including people with disabilities and access needs, BIPOC, LGBTQ,  and anyone who does not fit into the very narrow mold and BS beauty standards the industry dictates of how we're 'supposed' to look.
For the purpose of this guide only I am sharing brands who are size inclusive and celebrate body positivity and acceptance. Each of these companies shows that size diversity in fashion does exist, and you don't have to sacrifice style to find it.
The Girlfriend Collective has highly-inclusive sizing that ranges from XXS to 6XL.
Their tights, activewear, and loungewear are made from recycled water bottles and fishing nets and designed to withstand even the most vigorous sweat sess. For ladies who lift, these will definitely pass the squat test!
If you're concerned about microfibers washing into the ocean when you wash your Girlfriend pieces, they also offer a microfiber wash filter to attach to your washing machine.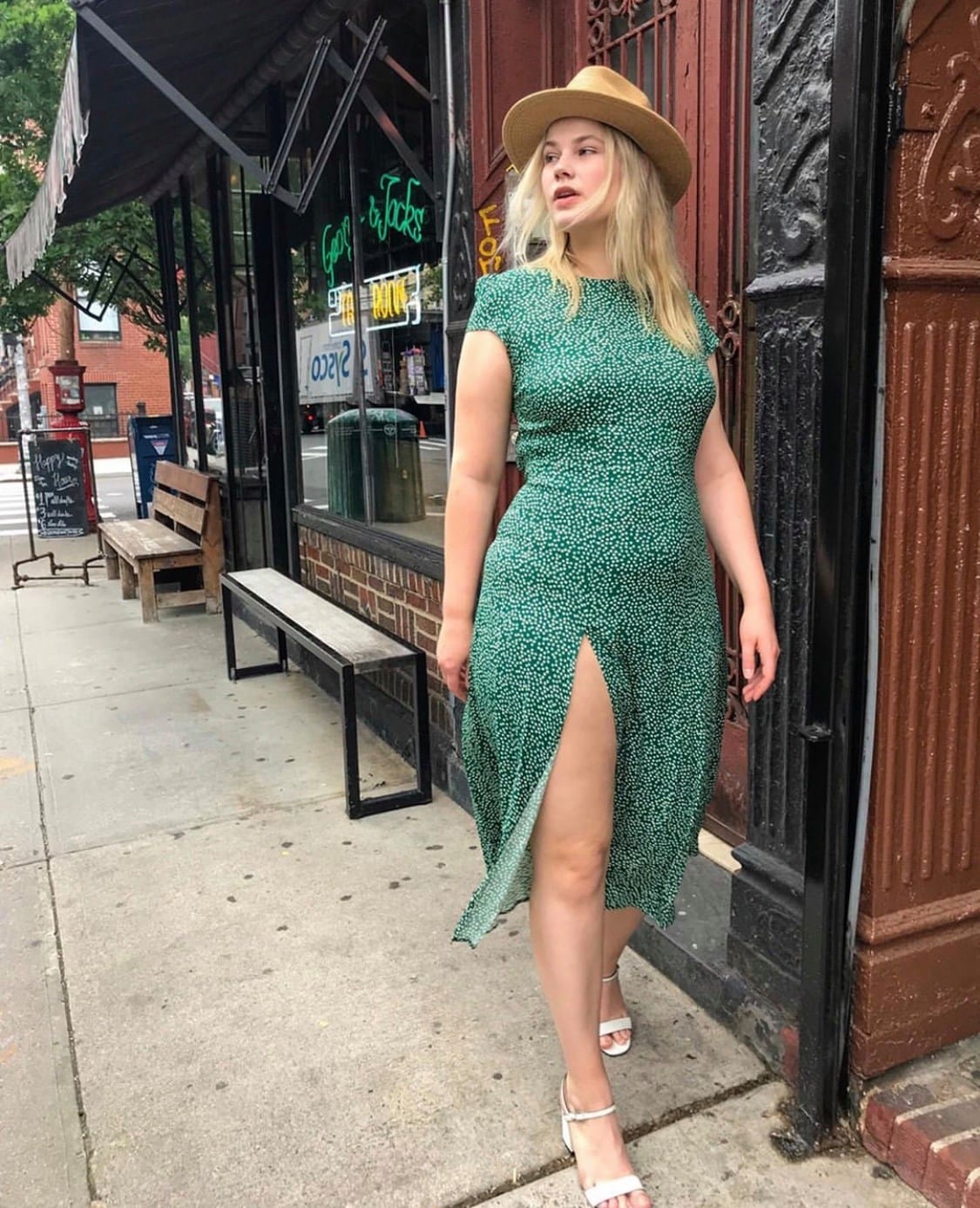 Cult ethical sustainable favourite Reformation is all about transparency.
On their site, each piece of clothing lists the fabric details, provenance, and carbon footprint of the garment. They even give tours of their factories so you can see their manufacturing processes in action. Known for their effortless, cool-girl vibes, Reformation does floral prints better than any brand I know.
In Reformation's extended sizes section, you'll find the same gorgeous casual dresses, formal wear, and denim in US sizes 14-24.
Mara Hoffman has been around for nearly twenty years. In the beginning, the company's main goal was fashionable, comfortable clothing. But in 2015, the vision changed and the brand committed to using more sustainable and mindful manufacturing practices.
Mara Hoffman uses recycled materials, natural and sustainably sourced fabrics like hemp, cotton, and linen. The vegan-friendly designer also never uses fur, leather, or feathers in their products.
The extended size range includes most pieces from the core collections and goes from an XXS to a 2XL.
The certified B-corp is a trusted name in ethical fashion and a leader when it comes to inclusive sizing.
On their website, you'll find comfortable and timeless ethically made styles that fit women up to 3XL. Eileen Fisher pieces are designed to last so you can feel good about investing in them.
Further leading the charge for sustainable fashion, their Circular Design initiative Renew takes back preloved and worn Eileen Fisher pieces to be repurposed, resold and loved all over again.
Hara which means 'green' in Hindi, is an ethical clothing label designed to be good for you, and the earth.
This inclusive brand creates beautiful, soft underwear and loungewear label designed to empower the wearer, offering sizes from XS to XL. They use OEKO-TEX certified bamboo and GOTS certified organic cotton in all of their pieces using natural, earth-friendly dites.
Hara's mission is to use their label as a platform to bring change, awareness, and education to the issues within the fashion industry.
Ace & Jig is a textile love story. They craft exquisite pieces using yarn-dyed woven fabrics in bold textures, patterns, and colours.
They partner with artisan weavers in India to create their unique fabrics who practice the holistic kaizen philosophy of always continuing to improve. Their sizing goes from XXS to XXL with many of the styles designed to be a loose fit so they could extend up to further sizes.
With sustainability at the heart of the brand, Ace & Jig aims to be a no-waste company and recycle and repurpose the fabric they can't use. The #aceandjigcommunity host's events and swaps to resell old styles they no longer use and also upcycle their ace&jig pieces into one-of-a-kind creations.
Australian made, Melbourne fashion label Kuwaii is the antithesis of fast fashion.
With a philosophy of smaller, slower and more simple, they produce minimal runs and made to order, with a strong focus on designing clothes you will wear forever. Kuwaii's simple silhouettes are incredibly flattering on all body types and they offer sizing up to an Australian 16.
Their most recent collection is in collaboration with artist Minna Leunig and features 'playful, primal and earthy prints inspired by the natural world'. They also have a gorgeous range of vegan sandals to complete your Kuwaii outfit!
If you're looking for sustainably-made swimwear modelled on everyday women, Camp Cove Swim is for you. They use real unedited women for their photo campaigns and celebrate the beauty of the female form in all its different shapes.
The Australian swimwear label practice sustainability in every aspect of the business from using recycled fabrics in the designs to low-waste packaging.
They want all women—no matter their shape or size—to feel comfortable and confident in their beach bodies. They aim to empower woman, to challenge the beauty standards presented to us every day and to encourage their customers to love and respect their bodies.
Mary Alice Duff, the talented designer behind Alice Alexander is on a mission to give women of all sizes great clothing that doesn't harm the planet.
Every piece is designed, patterned, cut and sewn on a made-to-order basis in combined and production studio in Philadelphia. By reducing fabric cutting waste and using zero-waste labels, the ethical fashion brand proves fashion doesn't have to harm the environment.
Whether you're a size zero or a size thirty, Alice Alexander has something for you—even for petites and talls and if your measurements fall outside their size chart, let them know and they'll do the best to accommodate you.